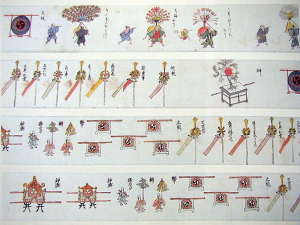 Ibi Matsuri, the annual festival of Miwa Shrine, held on every May 4 and 5, has a history of over 300 years. Its history dates all the way back to the 18th century with the appearance of the mikoshi parade drawn in this picture scroll in 1727.
This festival is known for large and gorgeous 5 floats and 3 beautiful mikoshi (portable shrines). All 5 floats line up in the shrine's ground and Kabuki is performed by school children in the center. The performance is dedication to the deity.
Like many Japanese festivals, Ibi Matsuri is Shinto celebration. At the beginning of the festival, the Shinto ritual is held to the deity to show appreciation for peace and pray for further prosperity in the community. Then the first Kabuki performance is staged in front of the shrine gate for dedication.